ABOUT FUNGIV
Wouldn't it be great if you could do the things you love while helping others in the process? Absolutely!
Which is why FUNGIV hosts a variety of fun events that are all about giving back.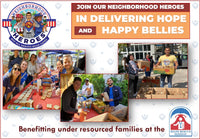 Join us in Delivering Hope & Happy Bellies!
Join our Neighborhood Heroes in assembling lunchbags for those in need before the holidays at the Carousel Club, located in the Village of Gulf Stream Park (Sunday, Nov 19th, from 10AM-12PM).
Register to Join our Neighborhood Heroes!
HERE'S A LOOK AT SOME OF THE FUN WE HAD AT OUR LAST DODGEBALL DERBY!